Outdoor & Indoor Sign Company in Texas
Building, installing and servicing quality custom signs world-wide since 1979.
LED Message Center & Video Display Signs
Sale, Lease or Rental

Guaranteed Highest Quality ... Guaranteed Lowest Price™
Visit Our Unique Sign Showroom with LED Video Display Signs
---
Now with Live
Showroom Demonstrations
Products that Improve Your Signs
---
All our products are on display, including our programmable digital LED signs, and our newest product, WindowVision™.
We are constantly innovating with newer, better, more dazzling ways for you to establish your business in the eyes of your customers.
Unique in the entire sign industry, Signs Manufacturing™ built an 85' by 50' (over 4,000 sq ft) indoor sign lighting laboratory and showroom to help its customers decide which sign innovation is the right one for their business as well as to test the longevity, visibility, and effectiveness of all the lighted signs we manufacture.
Seeing is believing!
Don't buy a sign from a drawing, a slick website, or photo-shopped pictures, when you can actually see and compare real signs.
The Signs Manufacturing On-Location Personalized Service
---
No matter what types of signs you are interested in, our sales/design team, consisting of 13 highly-trained individuals, is at your beck and call.
Let us meet with you in your office, or at your new sign location, or home, or anywhere.
You will probably have a firm quotation for what you want during our meeting; certainly no more than a day later.
We are not a small sign company. We can meet any demand, any schedule, anytime!
In addition to your personal sign consultant, your signage project will be managed by:
A Signage Project Manager assigned to shepherd your sign thru production and installation. In addition to your salesperson, your Project Manager will also interface with you to keep you informed, and obtain additional information so we can quickly solve any problems that arise.
Our ImageKrafter™ Design Team double-checks the proportions of both the sign you approved and the installation location. Permitting and manufacturing drawings are prepared.
Our sign company Master Electricians and Master Sign Electricians design the electrical portions of the sign if the sign is electrical (State Law, incidentally.)
Our Installation Manager reviews everything known about the installation location to verify that our manufacturing methods will allow for efficient installation at you particular location, according to what we've been told and what we have been able to observe.
A Nationally-Certified Permitting Clerk is charged with obtaining your City Permit as quickly as possible, if one is required. Our full-time clerks training and experience proves invaluable in quickly gathering all the information necessary for City approvals. All of the steps above contribute to the data needed to file a City Permit.
Our Production Manager verifies that all pertinent manufacturing information is available, then schedules production. The more "eyes" on a project, the better!
Exclusive Automatic Updates keep our customers informed, so they know where their sign is in production, when the permits were approved and when the sign is scheduled for install.
Our Shop Foreman verifies again that all pertinent manufacturing information is available, then has your sign manufactured by our shop personnel. Again, the more "eyes" on a project, the better!
Quality Control putting even more "eyes" on your project, tests and verifies. They then add either a UL Listing label or an ETL Listing label, depending on the type of electrical sign.
Our Installation Manager now shepherds the installation utilizing our QualityCertifiedSigns™ trained, State-licensed, technicians.
We are trained to identify and solve problems before they affect your sign's delivery. If problems do arise, our sign company's goal is a trouble-free experience for our customers. Our staff can handle it!
Smaller sign companies have limited resources to dedicate to problem-solving.
Guaranteed Highest Quality ... Guaranteed Lowest Price
™
---
As detailed on the pages that follow, everything will be done to make your sign look better, and last longer...Guaranteed.
A positive image is everything; Quality Matters.
Signs Manufacturing™ also guarantees that our price will be the lowest price you can obtain on the products described in this website; now or anytime during the next 90 days.
If you are offered a lower price by someone else we will match that lower price PLUS give you 10% of the difference.
Recently Completed Projects
---
Full-Service Sign Company
(Permit Filing, Manufacturing, Install, Service)
---
Please visit our four-building production "campus" consisting of two sets of joined buildings. (Satellite photo courtesy of Google Earth.)
Learn in our Sign Showroom. Your business will be better if you do.
If you are seriously considering buying from someone else we suggest that you also visit their location to observe if they can actually do what they are offering you; or at least "Google" their address. A lot of competitors, some with very slick websites, who present themselves as full-service sign companies, actually only buy and resell signs, working out of a house, office building, small warehouse, or storefront! Some even hire others to do all actual work.
Automatic Customer Schedule Updates
---
Unique to the industry, Signs Manufacturing has developed an automatic update system to keep our customers informed.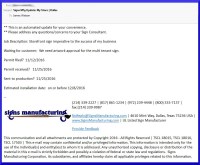 The #1 complaint we hear from customers, whether it is feedback for our services or complaints about another company, is lack of communication. We listened and developed a solution.
Our scheduling system will automatically inform our customers of the status of their project. You will always know:
if we are waiting for any information from you,
if the permits have been filed (and when),
if the permits have been approved (and when),
when the sign was put into production, and
what our projected install date is.
We recognize that your sign is imperative to the success of your business. Not having your sign installed on time is disastrous! Our exclusive update system helps us (and you) avoid surprises and get them resolved while there's still time.
Ask your Representative how it works.
Free Factory Tour
---
Come and see the array of equipment and tools, and the facility dedicated to making good signs.
Contact a sales consultant to arrange a plant tour.